News
Press
Ethernet switches and media converters can now be seamlessly integrated into Eplan projects
Compliant with the new EDS standard
Fairs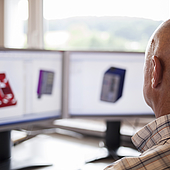 30
Apr
2020
Online Meetings
Arrange a virtual appointment with us now!
The direct and personal contact to our customers, business partners and suppliers is very important for us. Since this is currently not possible, we'd like to offer you the opportunity to cooperate with us digitally and to integrate virtually.
What does that mean exactly?
You can book an online meeting with us free of charge by prior arrangement with our customer service or key account managers. Whether you would like to talk about your current or future projects or require to be trained technically by our Competence Center - we are guided by your wishes and call in the appropriate eks experts and work out a solution together.
Please contact us for an appointment directly by phone or e-mail. You can find all contact persons here.
We look forward to being there for you also in these times.